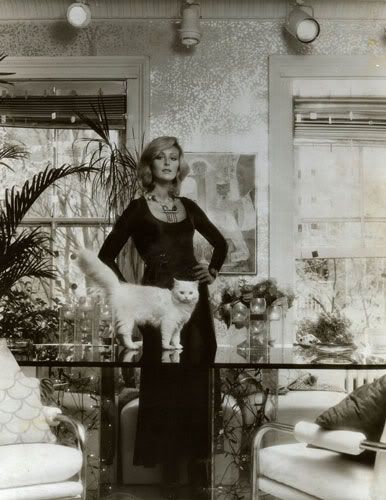 Christa Helm finally became famous--but not due talent or beauty, as she had hoped. Her enduring legacy is as the mysterious, infamous, and ill-fated party girl. Portraits from the era show a 70s diva with a penchant for luxury and a table full of carved crystal. But behind the smooth polish is a story ripped from the Cold Case Files, and was in fact featured in an episode of 48 Hours-Mystery.

Christa Helm was a party girl and B grade starlet with blonde diva good looks and a very obvious lack of acting skill, but the dramas she spun off-screen would have really made the best movies. Coming from a small midwestern town with big Hollywood dreams, Christa, or Sandra Wolhfeil as she was born, left home at age 17 and tried various jobs from Playboy bunny to go-go dancer. After marrying young, having a daughter, and divorcing soon after, Christa moved to New York and started a modelling career and dove into the party scene becoming a staple of the gay downtown circles-- and befriending local personalities such as Warhol's transsexual muse Candy Darling. She caught the attention of extremely wealthy entertainment patrons and included the Shah of Iran to her list of sometimes-boyfriends. High roller boyfriends gave Christa presents galore-- the Shah particularly, lavished Christa with gawdy cut-crystal knickknacks, and a club-owning boyfriend bought her a vacation house in the Hamptons. As Sandy got a taste of the good life, she began to shape Christa. At a psychic's suggestion she took the name and began to live the life of an A-lister-- including delving into plastic surgeries at the ripe age of 23-years old-- which is probably why her face usually appears a polished, blank mask in photos and film.

As Christa slept with the A-list set, she recorded every detail in a sex diary that never left her side, and made a back-up copies of her exploits on recorded tape. Christa was very public about her infamous black book, and close friends started thinking it wasn't such a good idea. As her list of encounters grew more prominent, and Christa logged the experience, complete with a rating system. One of her main confidants was a man many of her other friends were highly suspicious of-- Lennie Barin, a flamboyant costume designer well- known in Manhattan. At this time her main home was a seven-room duplex filled with high-tech gadgets and lavish cushions in the East 30s she nicknamed 'Merlin's Magical Den'. As Christa conquered Manhattan, she felt the calling to Hollywood and already had a reputation by word of mouth in LA--- by this time Christa had a
very limited body of work
to her name: a Wonder Woman episode, a Starsky and Hutch episode, and a bad B movie that only saw 4 days in a theater in Cincinnati before shutting down. But, somehow, her extra curricular activities had earned so much attention she was getting offers from Hollywood so she packed up to live with a roommate in Southern California.


Christa had a taste for the finer things, but the crowd at elite 70s disco clubs represented that time of extremes, as filthy rich debutantes and trust fund babies rubbed shoulders with drug lords and starving artists. Christa always had one foot in the gutter with a string of dangerous and street savvy friends, Christa was well over her head. She maintained an even wilder life, one minute staying with infamous swindler and prostitue-loving Bernie Cornfield in his grand California mansion with 39 other gals Bernie called his lovers, and the next at an 'anything goes' 70s soiree at the home of a well-known, well-armed Hollywood dealer. Christa kept plugging away at her Hollywood dreams, meanwhile she was living an A-list life off-screen: bedding and cavorting with all the big names at all the big parties. She has supposed bedded Warren Beatty, Michael Sarrazin, Desi Arnaz, Jr., George Hamilton, Johnny Rivers, Mick Jagger, Englebert Humperdinck, Roman Polanski, in addition to the hundreds of other characters behind the scenes of the entertainment industry. Christa's daughter mainly stayed with her Grandmother but would visit her mother from time to time in the glamorous world of 70s Hollywood. Her daughter Nicole was supposedly quoted as saying, "in the 70's my mother knew a lot of people in Hollywood. Whenever any male celebrities in town needed an escort I was told they always thought of Mom first. She seemed to know everyone in town and was very popular as the girl everyone wanted to be seen with... There was a rumor that the federal government here in the States often used models and starlets like my Mom to get information from him [the Shah of Iran, one of Christa's boyfriends]. They apparently approached my mother to help them and she began filtering information to them on his activities. The Shah was said to have given her many beautiful gifts, like jewelry and furs. I was told he was quite smitten with her but you know, he had lots of other girls like Mom in his harem."
Ok, here's where it starts to get wierd. Christa apparently felt she was in danger, cavorting with some of the shady-er crowds and possibly worried about the information she contained and recorded in her so-called sex diary. She sent a postcard to a friend back home stating she was afraid she was getting in over her head out in there in Hollywood, and wanted to get out. Christa decided to cut loose for NY and record a disco album with one of her boyfriends, prominent DJ Frankie Crocker, and some other musicians. Of course, Christa couldn't do anything simply, she had an affair with her female backup singer Pattie Collins, while she was seeing the DJ, and numerous other boyfriends in her life. Apparently a lot of jealousy was in the air and the recording session got tense. One night, Christa decided to go to a party with her roommate in an affluent neighborhood near Hollywood. As she was returning to her car in a parking lot in the early morning hours she was stabbed 30 times and left for dead. When the police investigated they found that her sex diary and the tapes she recorded were all missing along with some of her other possessions. Her roommate report that days after her death struggling actor and mob affiliate, Tony Sirico-- now best known for his longtime role in Sopranos-- visited their home and took many of Christa's furs, sex tapes, and jewelry with him.

Over thirty years after Christa's murder there are still no leads. The theories abound. The police believe that one of several things happened: A) Christa had her sex diary in her possession that night, and a prominent lover-- out of fear of his personal details being released-- had Christa murdered in order to steal the diary B) One of the people working on Christa's album had her killed in a jealous rage over her numerous affairs C) the same serial killer than murdered Sal Mineo in that same neighborhood on that same day one year earlier randomly chose to attack Christa D) Designer friend and supposed backstabber (bad pun here) Lennie Barin had Christa killed and Tony Sirico steal her stuff out of envy E) The Hollywood dealer, whose house Christa frequented for wild parties, confessed to friends that he had killed Christa, but none of the evidence matched up and friends say he used to boast that so he could scare and impress people.

However, given all the contradictory evidence, no single theory makes total sense, and Lennie Barin, Frankie Crocker, along with several other key witnesses are now dead, leaving the cops with less testimonies, and fewer living suspects. Too make matters wierder, several of the people still around today such as the backup singer Christa had a hot and heavy relationship with, Pattie Collins, and Tony Sirico, deny ever having known Christa, claim they dont even remember her, even though the police know for a fact they had known Christa well in the 70s. After Barin's death many of Christa's belongings including furs and crystals were found in his apartment, but the tapes and diary were not.
You can find the 48 hours episode on Youtube in parts